What autumn 2024 trends are coming?
October 30, 2023
After several months of summer and high temperatures, autumn is finally here. That season that gives us a landscape and colours that we love, with its reddish and ochre tones that invite us to want to get lost and simply observe how they change, how the leaves fall and form an orangey mantle, mixed with the soft blue of the sky that does nothing but remind us of the colours that set the trend ... could it be professional deformation?
But for the moment we will leave aside the romanticism of this season to share our experience at the last edition of the Futurmoda Fair where we were able to reaffirm the trends that were presented at the Lineapelle fair.
There is a clear commitment to versatile, inclusive and sustainable design, opting for quality leathers and accessories that guarantee the durability of the accessories.
Dark and intense colours that embrace more challenging emotions, browns that evoke a sense of stability, neutral blues, reds, plums, purples and oranges with multicoloured shines to not forget our fun spirit and some energising ones such as Apricot crush that transmits vitality and is related to wellbeing.
The accessories appear with renewed strength. The opera-style leather gloves that cover up to the elbow, the belts gain prominence from being a piece that can often go unnoticed to be used on top of coats or outer garments.
We highlight several shoe models that will be the protagonists of the new season. The classic moccasins, the "merceditas" or Mary Jane, the ballerinas at floor level and for the more daring, the "lady" shoe with toe cap and socks! Do you dare? Without forgetting the presence in the street style of the cowboy boots in all their versions!
We go back in time and to the excesses of the 80's with big accessories, big metallic pieces, brooches, chains that create a focal point for the different shapes of bags. The maxi bags, giant bags with supreme size handles, quilted bags with cushion effect or "slouch" with short handles, bags in the shape of a sack, mini bags with retro designs... everything is allowed, let's bet on a creativity without limits that differentiates us from automated processes such as the digital world and artificial intelligence.
Join us on our journey along the Spanish Leather Route, there are no limits, your imagination does not have them and neither does Pyton.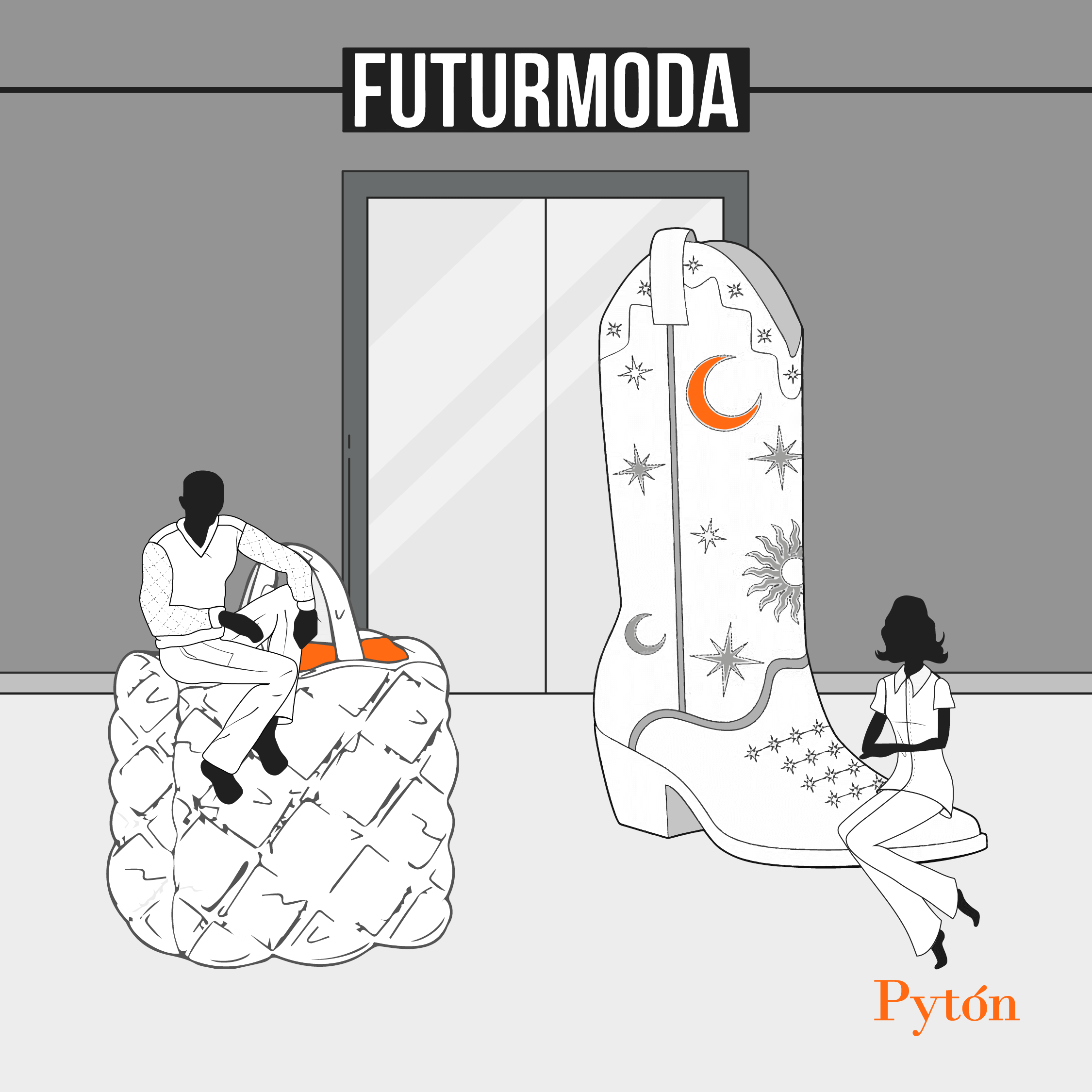 ¿Are you ready to wear bell bottom jeans?
October 3, 2023
Among many other coexisting trends, we are going to focus on one of the ones we like the most. The 70s! You may think it's because of disco music, bell-bottom trousers, afro hairstyles, yes! you're right! We find in the fashion of the 70s a reflection of the changes and influences of the latest trends that had to do with art, aesthetics, music and the awakening to the freedom of all and, in particular, of women, giving way to concepts such as psychedelia and a reinvention of the "hippie" style.
We place ourselves in the decade of the 70's and the 80's in which we highlight the 70's for the graphic designs and the 80's for the powerful use of natural fabrics.
Shirts, dresses and skirts were made of different prints and nowadays for 2024 these prints are coming back with strength. Psychedelia and elements of different shapes will feature in many of our garments and accessories.
Anxiety caused by the global poly-crisis continues to encourage a rebellious and protective aesthetic and concern for the environment suggests the use of materials designed for longevity.
Hardwearing leathers, minimalist metallics that capture attention with their sculptural and interesting shapes in classic silver or gold finishes.
During the 70s, there was a great renaissance in fashion, looking for inspiration in the past. One of these trends was the New Romantic, where floral prints, lace, straw hats, etc. were favoured. The Liberty style (patterns with mini flowers) adorned with embroidery is used in both clothing and bags. Bags with metallic hardware and envelope style, used in the 1930s, are once again in the limelight.
In the 1980s, the development of avant-gardism in fashion prevails with the proportion of novelties or the recycling of nostalgic ideas. Opposites begin to live in harmony (expensive vs. cheap, masculine vs. feminine, simple vs. ornate).  Clothes and accessories have become a flag: they show what you feel. There were multiple proposals so that everyone could make their own choice.
 For the first time, several urban tribes coexisted, such as punks, new waves, such as rappers and goths, and all of them influenced the creation of clothing and accessories.
In the 70s and 80s, fashion was all about comfort and practicality. The casual look was accompanied by a large handbag, designed for women who worked outside and in addition to being the perfect complement, they offered functionality and capacity to carry various objects necessary for the day to day.
Undoubtedly these two decades could be called the "Era of economic struggle, cultural change and technological innovation".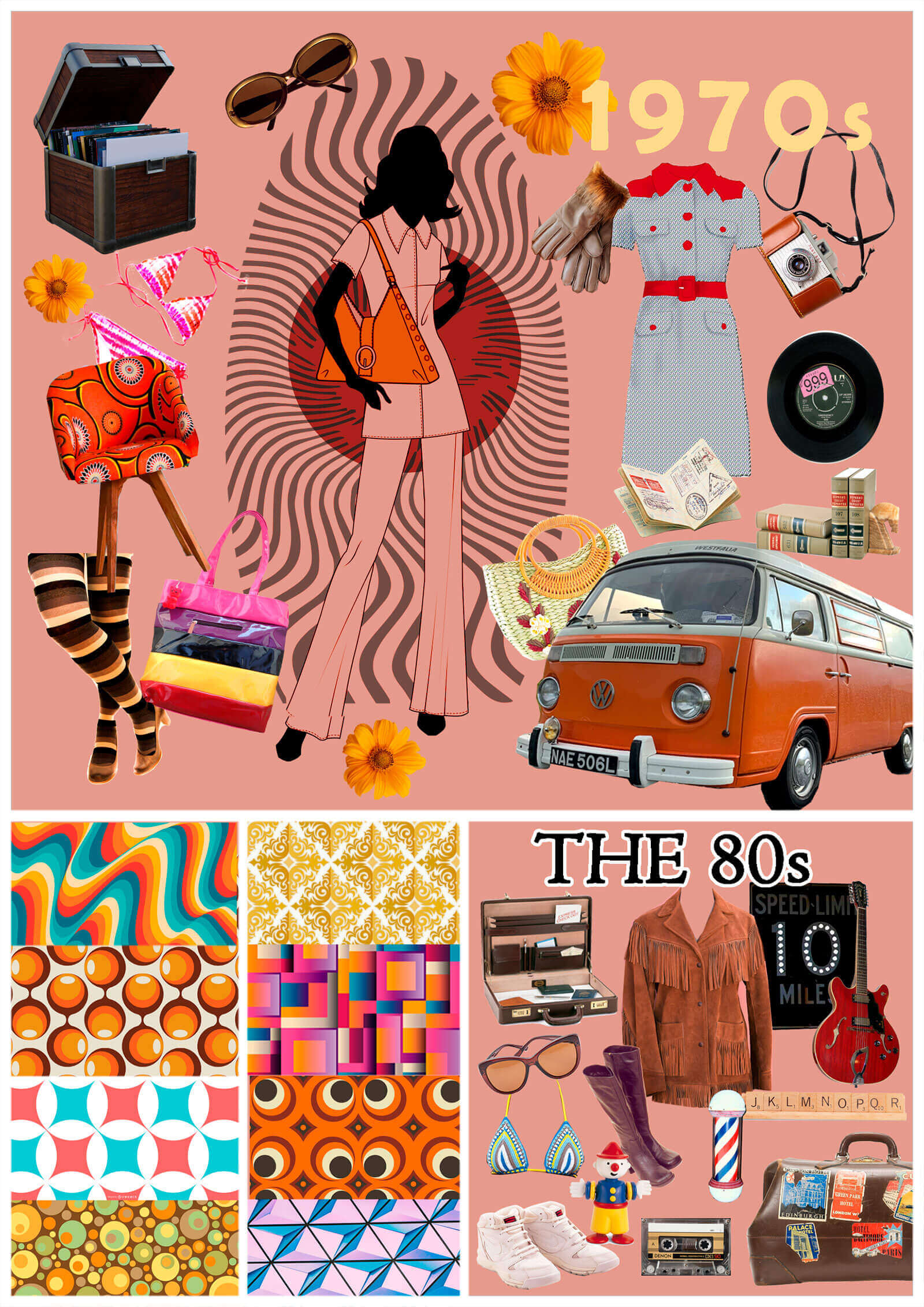 Trends for autumn/winter 2024
September 8, 2023
After a few days of well-deserved rest, we are back with great enthusiasm and we want to continue bringing you news!
Last July we had the opportunity to visit the Premiere Vision and Lineapelle London fairs, where we were able to attend the preview of the trends that will be defined in Milan.
Quilted and voluminous bags with soft, silky touch leathers are still very present, pigmented and embossed like our Chef article. Also, smooth soft leather and with a satin sheen like our Alexia, both in cowhide and with great performance in the cut.
There is a tendency towards suede, split and polished finishes with velvety effects.
In smooth leathers and on engravings. They are presented whether grain, crocodile or snake, which are also in glossy effect and stained in other tones.
Metallics continue, with shiny and luminous finishes that are almost transparent, and the glossy texture is gaining strength and is also reflected in the accessories. We highlight the prints on leather with 3D effect imitating tweed-like fabrics among others and technical materials.
In terms of shapes, the structured and semi-assembled bag remains the benchmark. Both with a short handle or a shoulder strap. Shapes: round, rectangular, half-moon, etc... mostly with a brooch or central accessory of important size and chain. Handles are very important for this type of models and the use of chains of different lengths and sizes is almost obligatory.
The finishes for the metallic accessories continue to be in shiny gold or nickel, but satin finishes appear timidly, giving softness and discretion to the finished bag.
There is also a commitment to engraved pieces, whether they are appliqués or buckles with stripes, with or without following any defined pattern. Also, accessories, mostly brooches that combine the metallic finish with enamel.
At the end of the month we are going to Lineapelle Milan and soon we will present you our new proposals!